5/8" Tables Overview
A fast, accurate, and easy to use modular fixturing system. Enjoy fast setup replication and reduced project lead times in prototyping, short runs, and even large volume production runs.
BuildPro offers a complete line of heavy-duty tables for work holding in woodworking and metal fabrication. Featuring our tried and tested TM System, a professional line of work-holding tools used to clamp down and locate workpieces quickly and precisely.
Here we'll compare our three 5/8" welding table and fixturing systems. At the heart of each system lies a highly accurate and precisely machined steel table frame, engineered for precision and rigidity. The three systems we offer are the ALPHA 5/8, a premier line providing five usable fixture surfaces, the top and four sides; the MAX line, akin to the Alpha 5/8 but with a focus on the top surface only, without side fixture plates; and finally, the MAX SLOTTED featuring a 1.7" gap between fixture plates to accommodate clamps or "t-slot" adapters that facilitates seamless positioning of clamping tools. All tables are available in various sizes and leg options, including height-adjustable legs and add-on casters for enhanced mobility. Let's explore these game-changing systems and discover how they can improve your manufacturing capabilities.
Alpha 5/8 Tables

Alpha 5/8 is Heavy duty 5-sided table with 5/8" diameter boreholes, combined with our patent-exclusive, reversible, and replaceable top and side plates.

All top plates are constructed from heat-treated steel, hardened to 550 Vickers, and finished with a nitrite coating with a case depth of .0004-.0008″.

MAX Tables

Our single-sided heavy-duty tables feature boreholes on the top surface with patented self-locating and reversible table top plates.

MAX tables are available in standard and nitrided tabletop finishes.

MAX SLOTTED Tables

The slotted tables feature open gaps between the top plates. Providing extra versatility, allowing you to slide clamping tools or pliers using T-Slot adapters or Sliding Channel on the open slot edges as clamping surfaces.

MAX SLOTTED tables are available in standard and nitrided tabletop finishes.

Tabletop
5-Sided
Single-Sided
Single-Sided
Reversible Self-Locating Table Plates
Sizes
10' x 5'
8' x 4'
6' x 4'
6' x 3'
4' x 4'
8' x 4'
6' × 4'
5' × 3'
4' x 4'
8' x 4'
6-1/2' × 4'
6-1/2' × 3'
4' × 4'
4' × 3'
2' × 4'
2' × 3'
Ø5/8" Table Hole
2.000" Hole Spacing
±0.005 per 24" x 24" Table Flatness
Top Plate Thickness
0.47" ±0.004
0.630" ±0.004
0.630" ±0.004
Tabletop Side Height
6"
6.25"
6.25"
up to 1,500 lb / leg Capacity:
Nitrided / Standard Finish Option
Nitrided Only
Both
Both
Gap Between Plates
1.7"
* All our welding tables are PATENTED: U.S. PAT. 8065967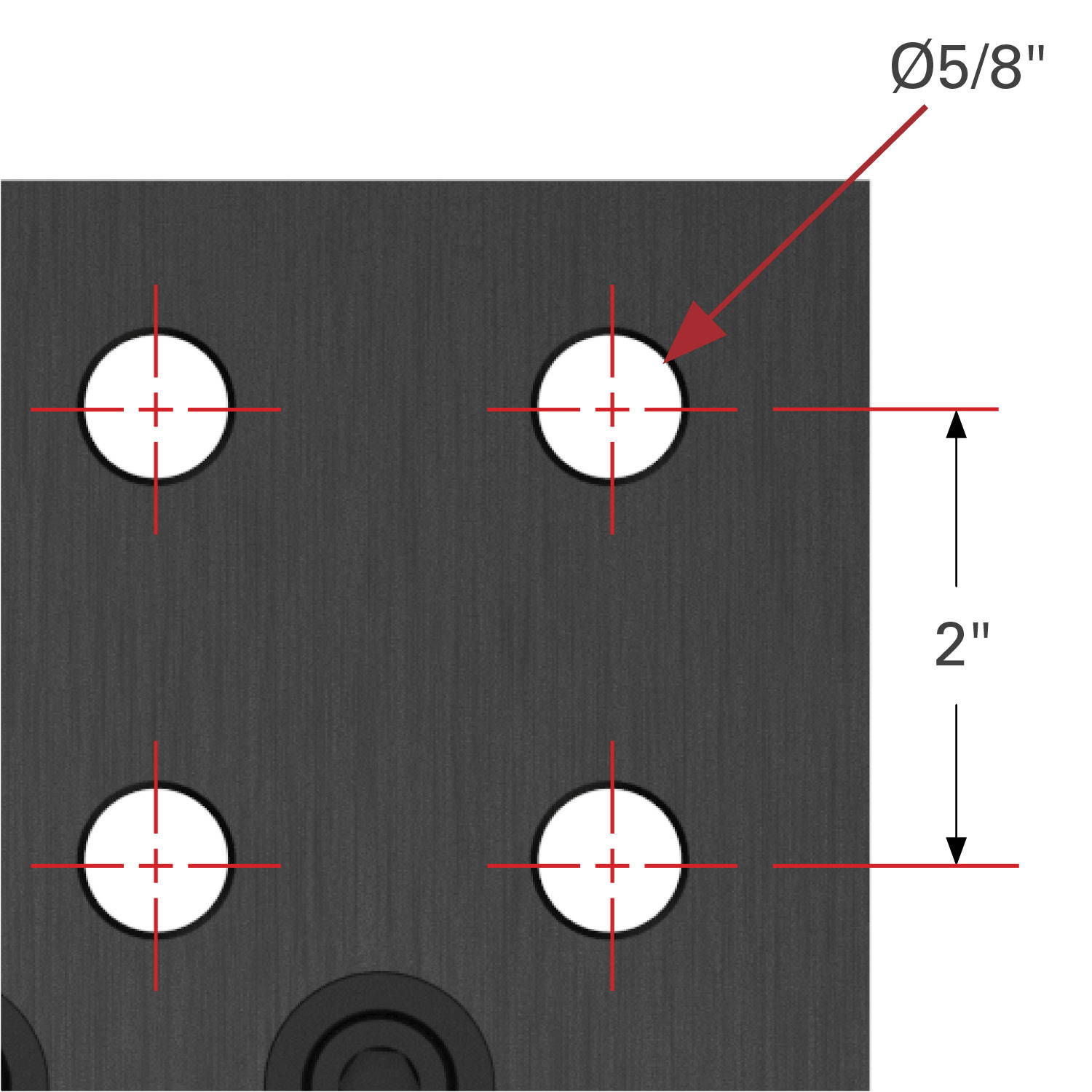 Table flatness: ±0.005 per 24″ x 24″
Hole spacing: 2.000″ ±0.001
Hole diameter: 0.625″ +.002/-.000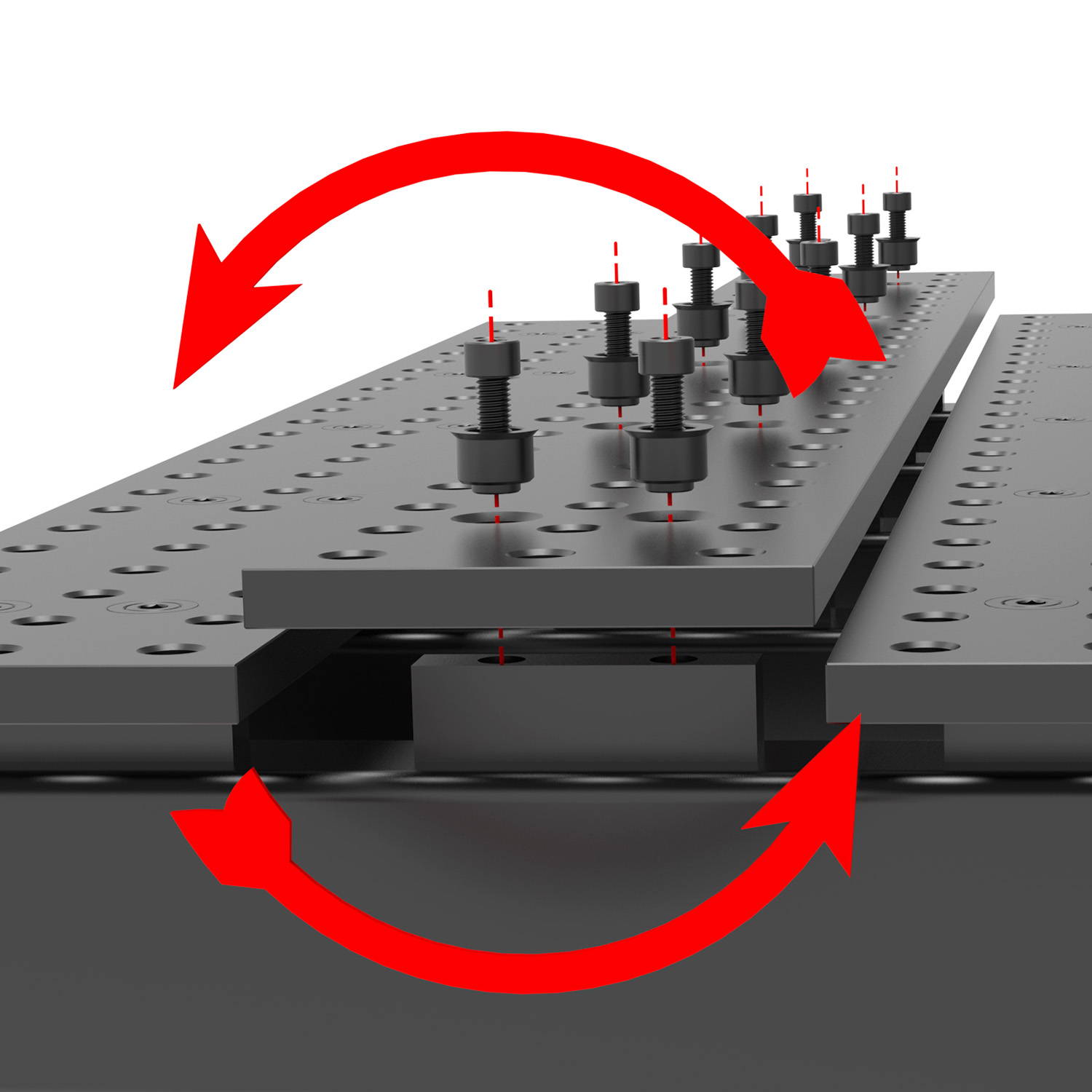 Reversible Self-Locating Table Plates
Patented bushing design allows you to remove, re-position, re-align, and reverse the table plates!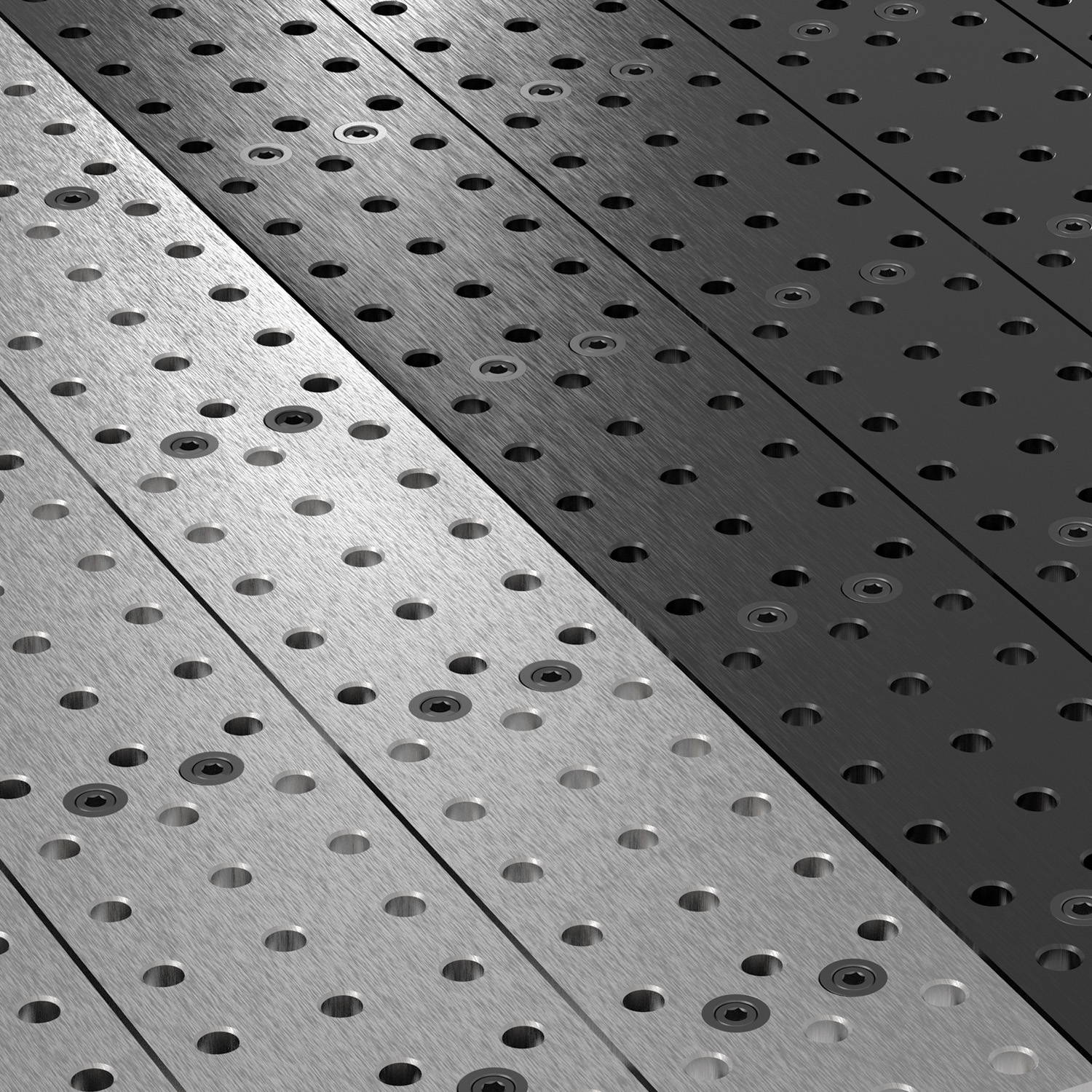 Standard (plain) / Nitrided Finish
MAX tables have standard finish (medium carbon steel) or Nitrided (heat-treating) finish while Alpha 5/8 offer Nitrided Only.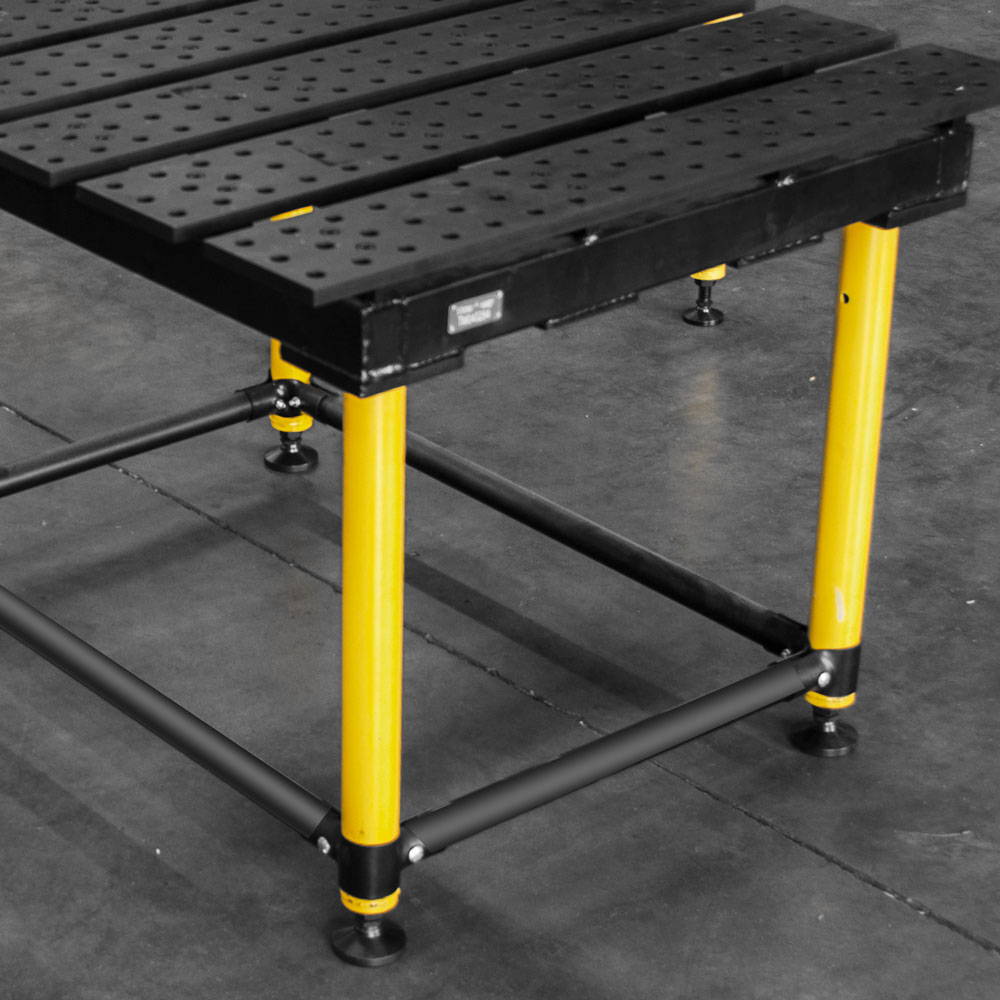 Heavy Duty Legs and Leveling Feet
Heavy Duty Leveling Feet ensure proper leveling of the table on uneven surfaces. You can choose options of: heavy duty legs, adjustable legs, and adjustable legs with mobility caster.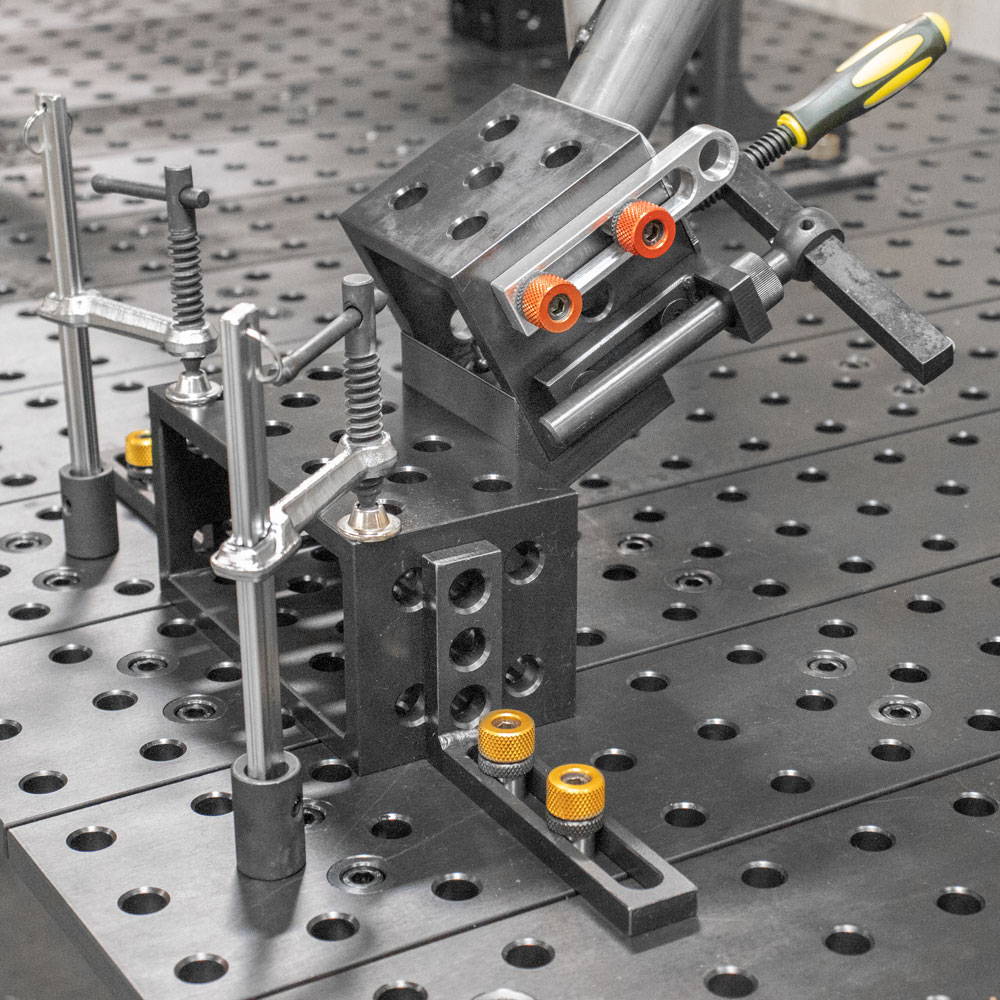 Key Elements in the 5/8 Modular Fixturing System
Ball Lock Bolts are key to the efficient set up of Modular Fixtures on your BuildPro Tabletop. Use the Ball Lock Bolts to fasten clamping elements to the 5/8 Tabletop, or fasten two clamping elements together.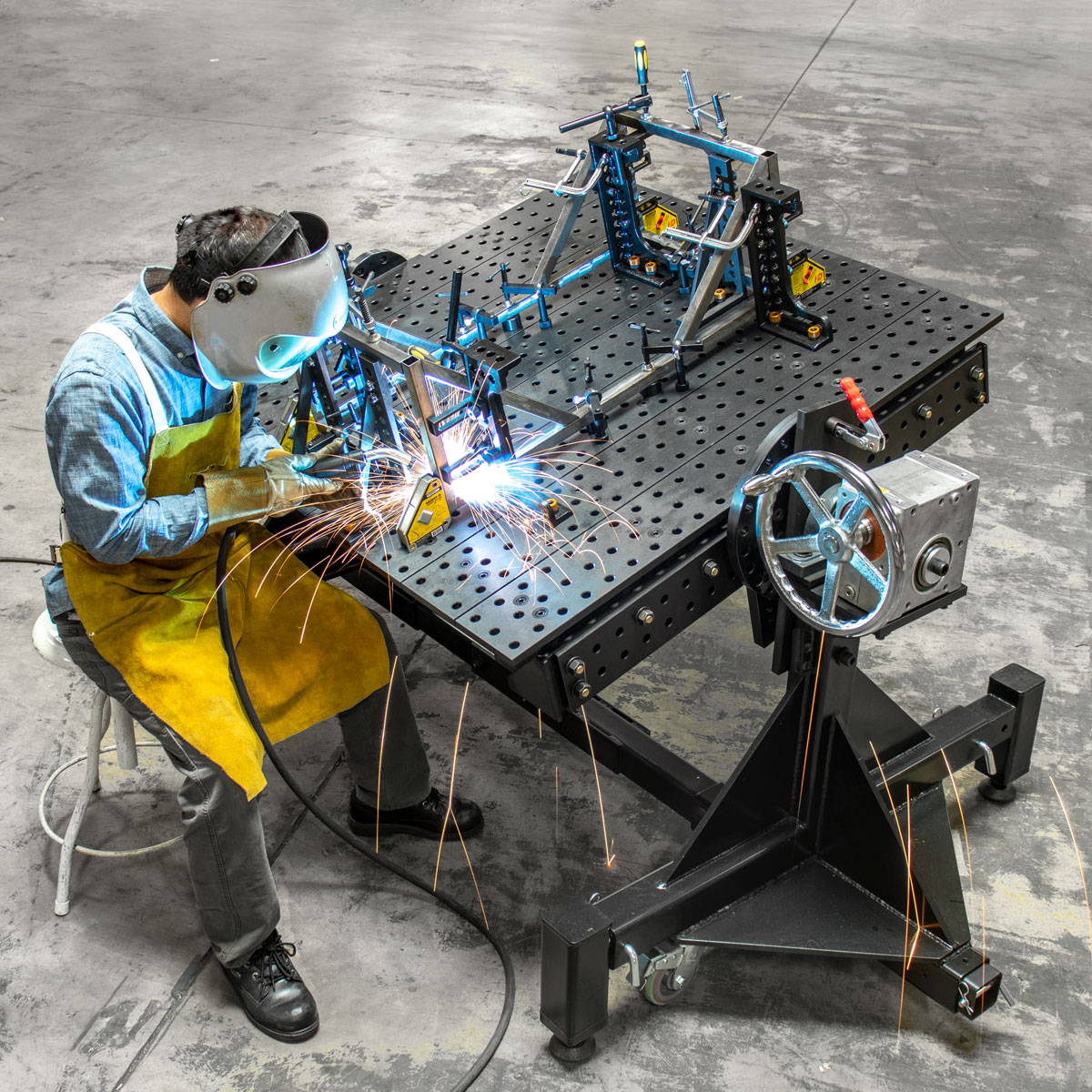 Extra Platforms to Mount the Tabletops
Optional platforms allow you to rotate / lift your weld fixture to the best ergonomic position for safety and comfort.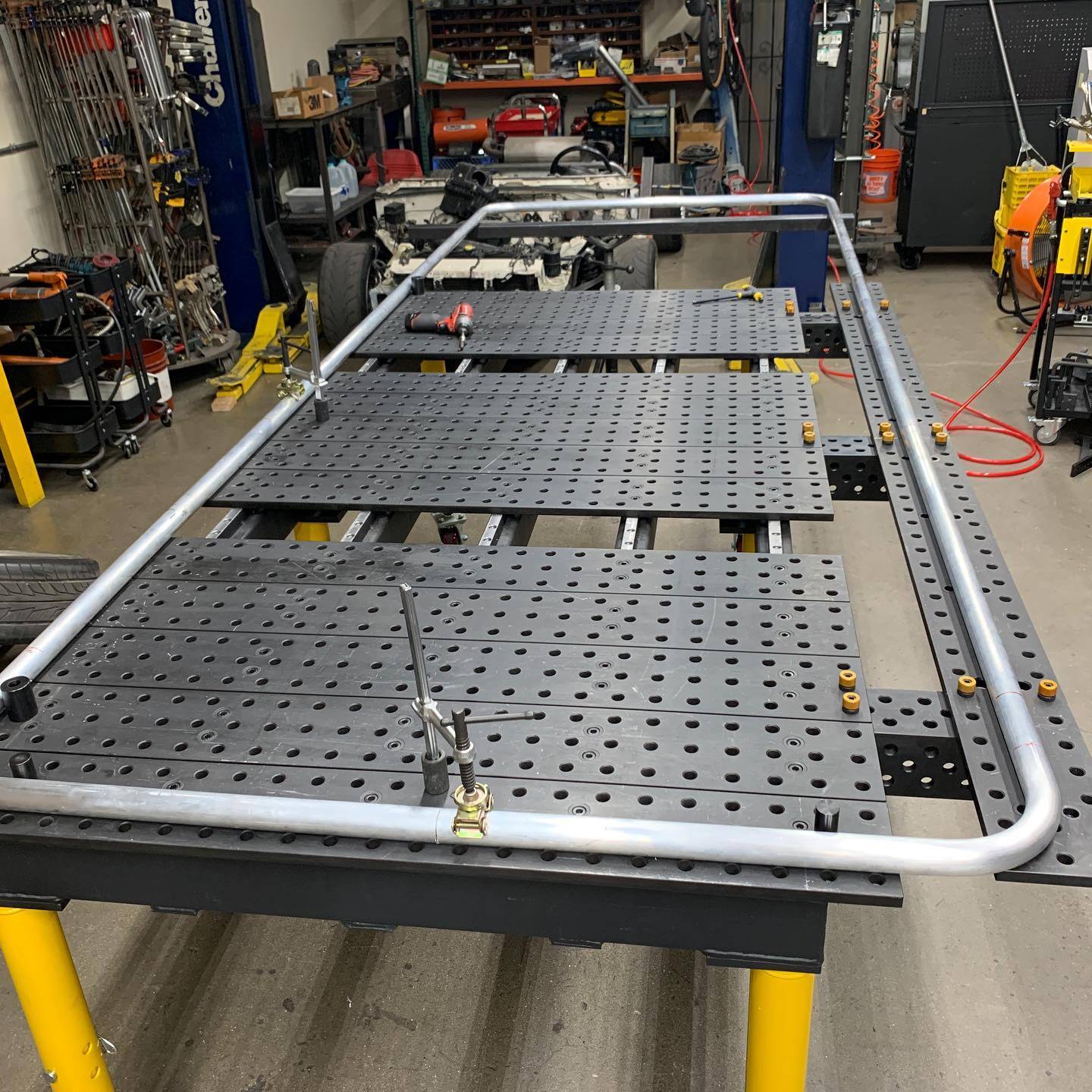 Reconfigurable and Expandable
The Ø5/8" Tables offer secure, reconfigurable stability for your workspace. Expand table width up to 100% to accommodate larger projects. Reliable, hassle-free construction ensures optimal results.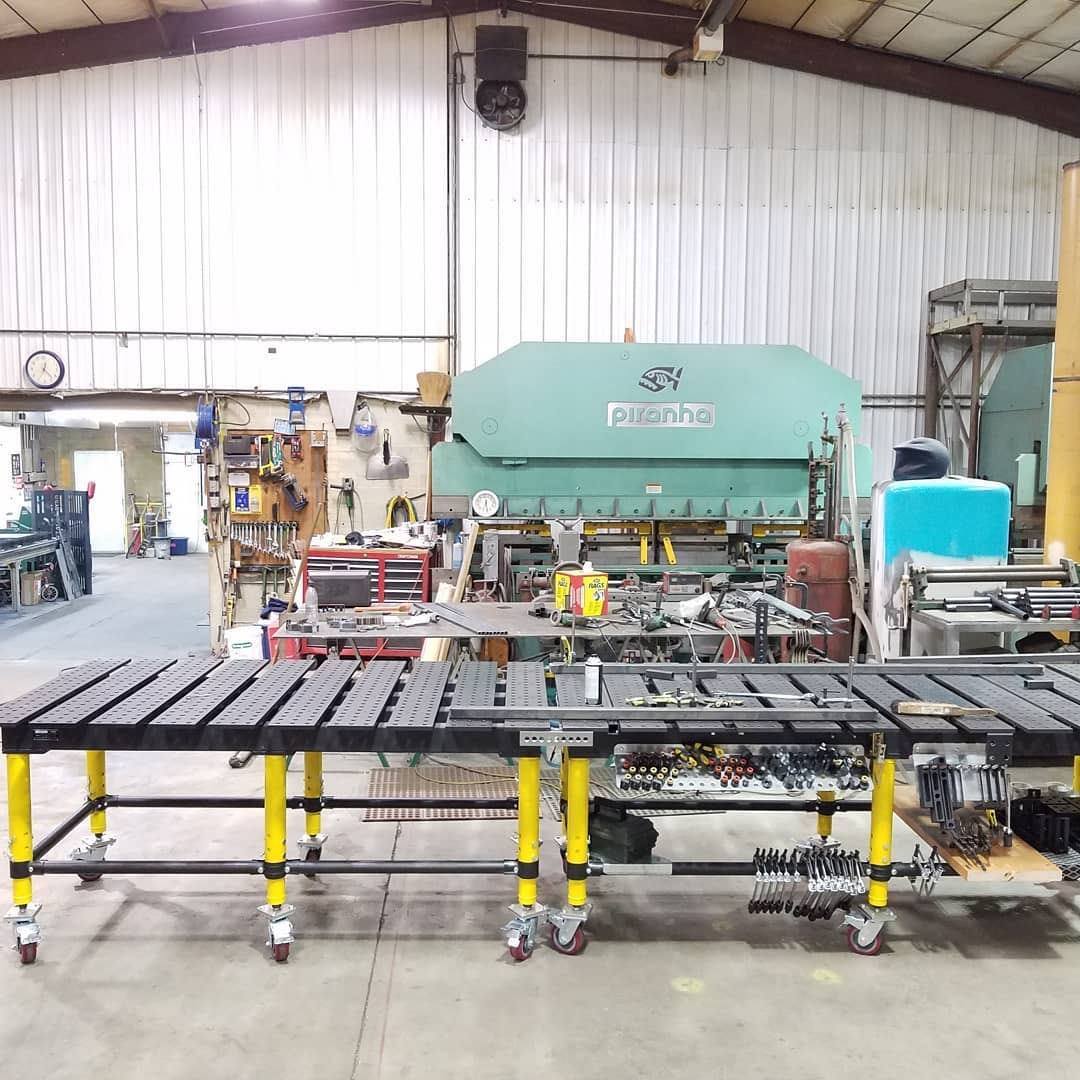 Buildpro's table joining kit makes it easy to connect tables together and create a single workspace for any size job. Enjoy sophisticated and flexible workspace to enhance your productivity.
MAX (Slotless) Tables have maximum Table Surfaceand maximum Capacity. Utilize the additional holes (33% more than slotted tables) for clamping at multiple points. Slotted tables have 1.7″ slots between plates.
How to calculate "Table Surface Height"?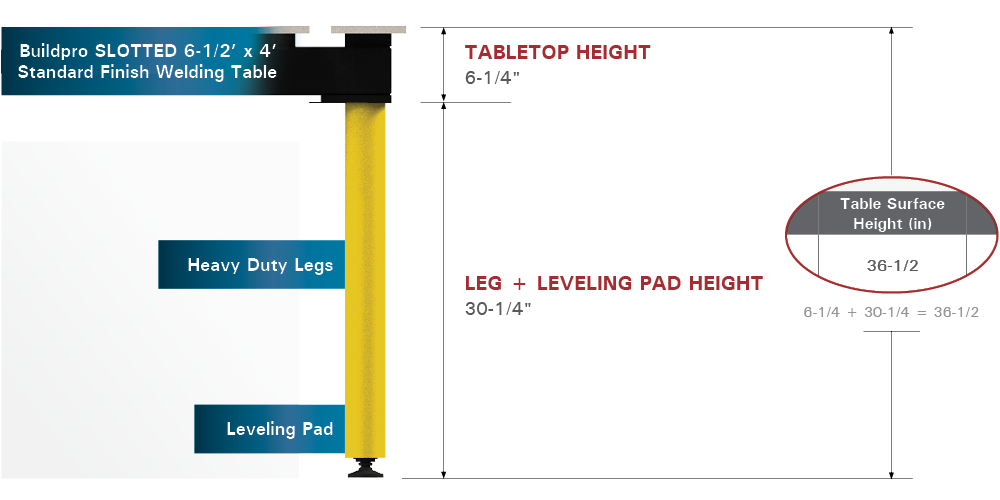 Slotted 6-1/2′ x 4′ table with Heavy Duty Legs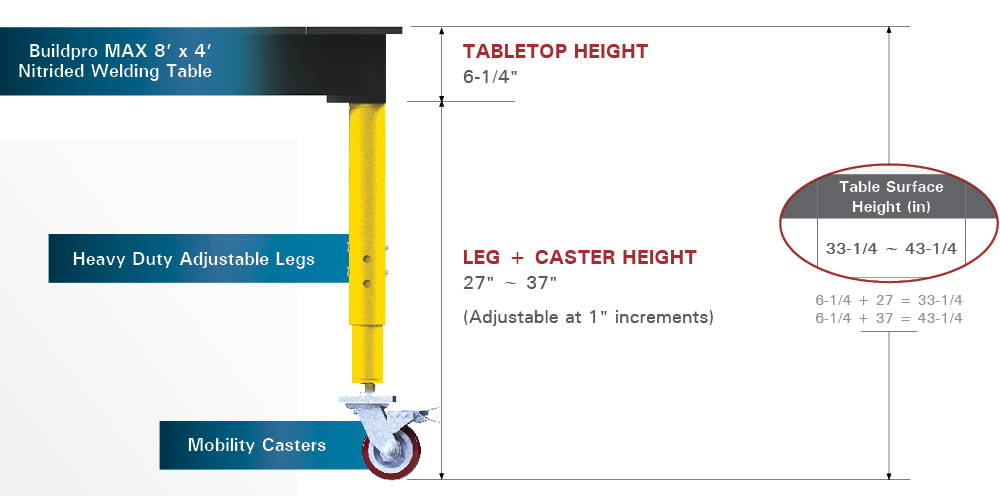 MAX 8′ x 4′ table with Adjustable Legs and Casters
* For Stationary Scissor Lift Platforms & HD Ergonomic Height-Adjustable Lift Platforms, ADD the 6-1/4" BuildPro® Tabletop height to the heights shown for each platform model.
What people say about us:
Very very well made! Super precise tolerances, clean and ready to be used. Just slap the legs on and off we go! Would recommend!
Kasey S (Gainesville, GA)

Really fast and accurate setup for square joints - big time saver in setup and by minimizing repairs to poor welds.
Has improved prototype building to a make sure parts are welded accordingly.
Craig M (CUMMINS SERVICE TRAINING)